Participation options


Raw space only

If you book raw space only, you can build your own stand design according to your company's objectives for the participation. Your presenta- tionareas, meeting areas and side rooms can be set up to perfectly match your needs. Additionally, you can use your corporate design as the basis for your architecture and furnishings to increase brand awareness. Prices start from1,140 RMB/sqm.Please fill in the initial request form to receive the application forms.


Shell scheme stand

If you have a smaller budget, not much experience with exhibiting in China or simply not enough capacity to organize all participation details yourself, booking one of our turn-key shell scheme stands is your optimal solution. You can chose between the basic Shell Scheme, Upgrade Shell Scheme or Deluxe Schell Scheme. Prices start from1,390RMB/sqm.Please fill in the initial request form to receive the application forms and detailed information about the schell scheme packages.
Basic Shell Scheme


Upgrade Shell Scheme and Deluxe Shell Scheme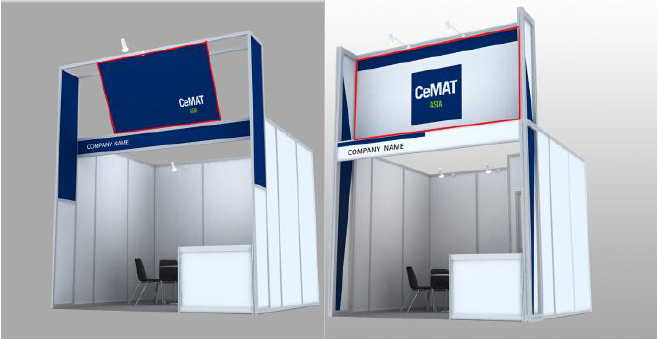 Special Pavilions and showcases

CeMAT ASIA hosts various special pavilions and showcases such as the German Pavilion, the International AGV Pavilion and the Hydrogen+Fuel Cells showcase. Participating within a group pavilion offers many benefits. The pavilions will receive increased media attention and be promoted extensively during preshow press activities. Additionally, exhibitors enjoy turnkey stand solutions and services such as catering and interpreting included in the participation packages.Please fill in the initial request form to receive more information about CeMAT ASIA's group participations.


Zone pricing system

CeMAT ASIA has a zone pricing system. This allows exhibitors to prioritize between location and budget. All halls are separated in three zones, A,Band C. If you book A zone, you will be located in a prime location inultimate proximity to the main isles. B zone will be located behind those further in the middle and C zone will be located further in the back of the hall. All zones are subject to availability.
Exemplary zone layout